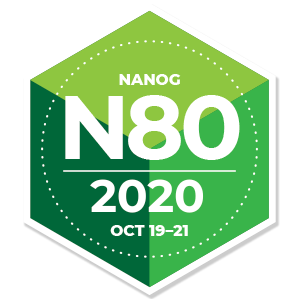 Date: October 19-21, 2020 
NANOG 80 will be held October 19-21 as a virtual meeting to ensure the safety and wellbeing of our community — the in-person meeting in Seattle has been canceled.
Share and discover the latest networking technologies and best practices with the greater NANOG community, without ever leaving home.
The NANOG 80 registration fee will be $250. If this presents a hurdle to your attendance, we encourage you to apply for a NANOG 80 fellowship.