Multimedia Security for Video Operators
Widevine and Comcast Technology Solutions partnered to enable end-to-end media management, publishing, video optimization, and secure over-the-top distribution for media companies. Widevine digital rights management (DRM) and mpx enable secure distribution and protection of multimedia content to a wide range of devices. It also provides the highest quality viewing experience for consumers.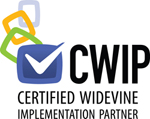 mpx has been certified as a Widevine integrator to install, maintain, and deploy Widevine software.
How it Works
Using the mpx Entitlements service, media companies can create flexible content and user policies for content protection and rights enforcement. mpx works in concert with Widevine DRM to first encrypt and then apply policies to content and user access. Encrypted content is then staged for delivery on a content delivery network for subsequent distribution to consumers. Widevine DRM keeps content encrypted during distribution. At the device level, the mpx Player issues a license request that is proxied by mpx to a Widevine Modular DRM Cloud Licensing Server. The Server then delivers the "keys" to unlock/decrypt the content, which is displayed according to the copy protection rules defined in mpx. This joint solution offers a seamless way to manage and secure the delivery of content using industry-standard methods across multiple platforms:
Dynamic Adaptive Streaming over HTTP (DASH)– DASH enables the online streaming of content. It leverages standard HTTP protocol and can easily be deployed on existing Internet infrastructure (web servers, CDNs, firewalls, etc).
Common Encryption (CENC)– CENC is an industry-standard approach to encryption. CENC identifies standard encryption and key mapping mechanisms that may be utilized by DRM systems to allow the decryption of the same file using different DRM systems. CENC, and Widevine Modular DRM enables content providers to encrypt their content once and deliver it to numerous client devices and their assorted DRM schemes.
Encrypted Media Extensions (EME)– EME is a proposed W3C standard that provides a set of common APIs that can be used to interact with DRM systems and manage license key exchange. EME allows content providers to design a single application solution for all devices.
Additionally, the solution secures delivery to a wide range of video-enabled, internet-connected devices. Learn more about Widevine on their website.