An Audience Insights Platform Where the Data Tells Your Story
As veterans of cloud computing and the online video market, the team behind Wicket Labs is building an audience insights platform that enables data-driven decisions and improves audience lifetime value.
Media & entertainment companies are searching for new ways to reach their target audience, improve their decision making, and grow audience LTV. The Wicket Scorecard enables these companies to gain better visibility into their customers, understand how initiatives impact their business, drive engagement with their service, and promote a happy customer base through the unique CHI score. It was designed to bridge the gap between siloed data and better decision-making based on data-driven, actionable insights and is the only audience insights platform designed to tell a story about your video business from the data.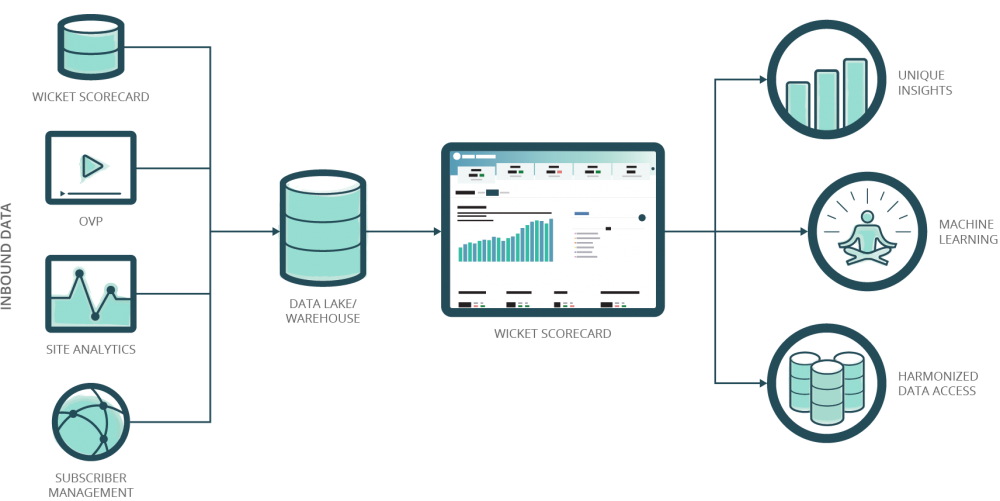 Gain Better Visibility into Your Audience
Each Wicket shows a host of information to give you a thorough view into the health of your video business, including CAC, ARPU, LTV, the effectiveness of marketing sources and sales channels, and more.
Understand How Initiatives Impact Your business
Get a sense of the effectiveness of your tactics with a glance at conversion breakdowns that measure yield per marketing source, allows a drill-down into each source to take action, and details conversions per product, device, and sales channel, you have unique insights into what is working and what isn't.
Drive Engagement with Your Service
Engagement Wickets reveal your audience's interaction with your library. Detailed trends of video consumption, average days streamed, and activity over time, identify ideal videos per session and number of series watched to maximize conversions and lifetime value through cohort analysis.
Turn Insights into Action
Action-oriented exports have a direct, positive ROI by improving several key factors within media organizations including CAC, Audience LTV, and reducing overall operational costs.
Promote a Happy Customer Base through the Unique CHI Score
The Wicket Scorecard uses machine learning and dozens of elements to form the Customer Happiness Index (CHI), based on dimensions of loyalty, content, activity, and experience. Easily discover which of your subscribers are likely to leave your service and pinpoint which signals have the largest influence on churn. The data export feature easily turns predictions into action to help you save subscribers and increase your ROI.
Learn more at wicketlabs.com or email contactus@wicketlabs.com.