Content creators, streamers, and multi-platform video providers. Advertisers and agencies. Global operators and telecommunications companies. We're all focused on the experiences that light up screens around the world – working to improve value on both sides of the equation by removing cost and complexity from media management and delivery, and improving the return on every content and technology investment. Comcast works in all arenas of modern media, partnering with companies across disciplines to develop and drive the innovations that will light up every screen in the decades to come. We've got a lot to share. 
Comcast Technology Solutions is uniquely positioned like no other at the nexus of media and technology. With a rich broadcast heritage, continual investments in innovative media technologies, and nearly two decades of on-the-ground experience, we are the market leader when it comes to making all the pieces work together to power both extraordinary experiences and revenue growth.
As part of Comcast, we tie closely to the efforts coming out of our corporate offices. Learn about our parent customer, Comcast, here.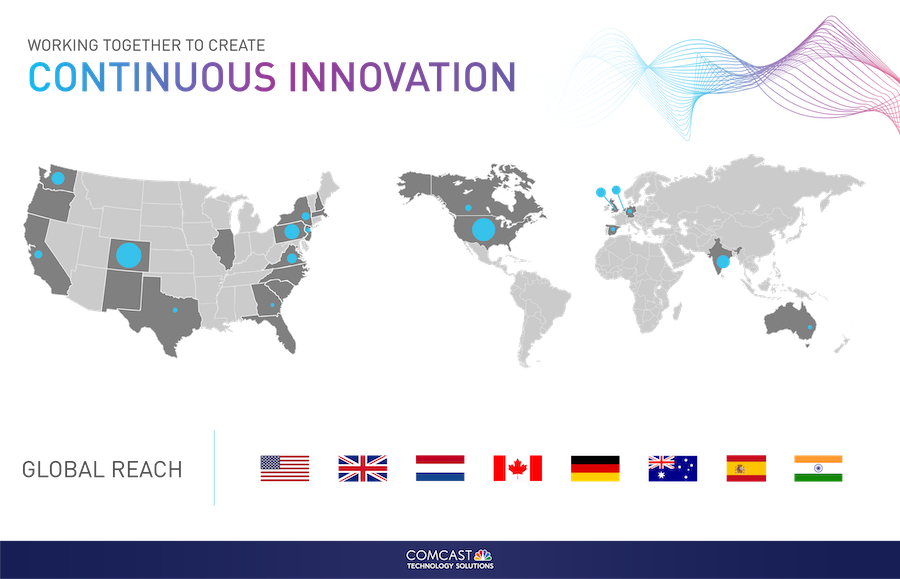 Executive Leadership Team
Our team of innovators and entrepreneurs has decades of experience in media, technology, entertainment, cable and advertising. We are changing the way the world looks at video and providing our customers infinite possibilities on every screen.
Events
Wherever, and however, industry leaders are meeting, you'll be able to find Comcast Technology Solutions at the front of the discussion. Let's drive the industry forward together. Explore our latest events, conversations, and content — all focused on innovations that drive business results.
Global Teams
Media and entertainment consumers evolve and change right along with technology. Comcast Technology Solutions is a convergence of knowledge from across disciplines, here to help you meet consumers on their terms, no matter where they are. Meet some of our front-line minds.
Career Opportunities
Comcast Technology Solutions is a great place to work. With hundreds of employees across the globe, we are constantly growing. Learn, evolve and take your career to the next level at Comcast Technology Solutions. The possibilities are endless.