Advertising: Seamless Transitions
The best way to manage big change is to eliminate concerns before they become problems. Even the most positive, well-researched changes can trigger fears, regardless of how "change-savvy" your business is. The human animal is hard-wired to meet any major upheaval with a series of internal alerts. Have you ever started a new job? Joined a new team? Gone on a date? These are all positive events, but your trepidation can usually be mapped back to two things:
How important is this to me?
What is it that I don't know?
As the fourth largest advertiser in the U.S., Comcast Technology Solutions has developed best practices for new clients that replace fear of the unknown with the confidence of transparent and proactive engagement. Our onboarding processes for new clients succeeds by nurturing superior relationships throughout the media delivery ecosystem.
The personalized support provided by our dedicated Account Management team is critical to customers like Tailored Brands, Inc.— you can read the full story here. Tailored Brands, Inc. effectively cut its video distribution costs in half, and now has a much clearer view of day-to-day order processing, ad traffic, and delivery confirmations. Our track record of stellar relationships is one reason why Comcast Technology Solutions is proud to maintain a 99% client retention rate.
Frictionless ONBOARDING, BY THE NUMBERS
Comcast Technology Solutions can set up a new client within hours – from ingest to distribution. Here's how we take the fear out of change, and bring the Ad Suite into the fold with no downtime or data loss: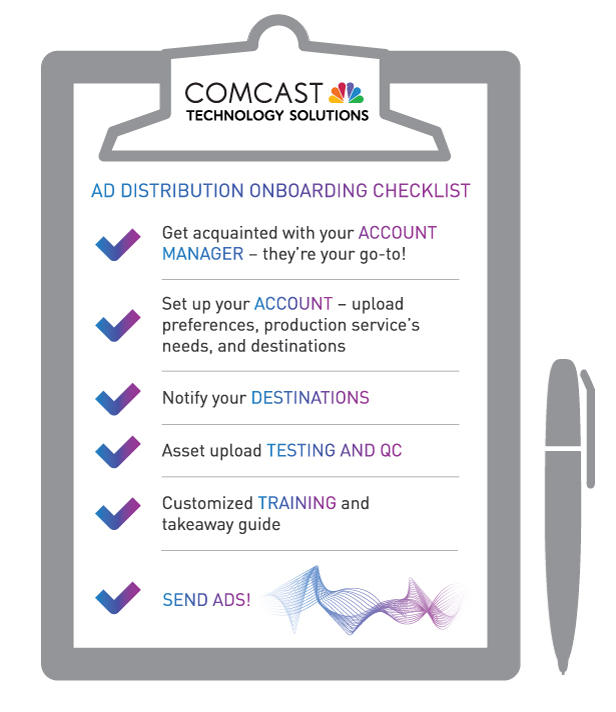 1. Get to know your new Account Manager
The Ad Suite success is built upon a foundation of great relationships between our Account Managers and the clients they serve. Our goal of acting as an organic extension of your own organization begins with a go-to point for you that is attuned to your unique needs.
2. Set up your account — upload preferences, production service's needs, destinations
The Account Manager works with each client to upload preferences and destinations, and build a plan to address any production services (such as closed captioning or watermarking) that the campaign needs.
3. Notify your destinations
Comcast Technology Solutions will send each destination a change notice   that provides effective change dates, an email address for IT teams to whitelist, and a resource to assist with any questions. 
4. Asset upload testing and QC
Our testing procedures and quality best practices have been honed by decades as a top-tier advertiser. Your campaigns utilize the same technologies and workflows that we use for our own content.
5.Customized training and takeaway guide
Full-service support is part of our commitment to every client. Training and support documentation is included, and designed to meet the needs of your unique program.
Welcome to Comcast Technology Solutions!
READY TO LEARN MORE? CHECK OUT THE CONTENT LINKED BELOW.
Ad Platform: Seamless Transitions
Comcast Technology Solutions
https://www.comcasttechnologysolutions.com/sites/default/files/2016-09/CTS_Final.jpg