Blog
September 14, 2023
Making cybersecurity continuous controls monitoring (CCM) a reality with DataBee 1.5
Exciting innovations are a-buzz! Today, DataBee™ v1.5 is now generally available and features a host of new continuous controls monitoring (CCM) capabilities on top of the DataBee security data fabric that puts your data at the center for dynamic, detail-rich compliance metrics and reports.  
As more businesses become digital-first, business leaders are leaning in and placing more importance on cyber-risk programs. In addition to pressure from regulators, internal auditors and KPIs are keeping security and risk management teams up at night. The lack of reporting capabilities that can show real-time compliance trends over time, on a consistent data set, have analysts scrambling to collect data and test controls that will only be evaluated in the latest audit, instead of focusing on sustainable programs and insights.  
Putting continuous in continuous controls monitoring 
DataBee 1.5 introduces a data-centric approach to continuous controls monitoring (CCM) for the security, risk, and compliance data fabric platform. By focusing upstream on the data pipeline, DataBee weaves together security data sources with asset owner details and organizational hierarchy information, breaking down data siloes and adding valuable context to cyber-risk reports and metrics.  
From executives to governance, risk, and compliance (GRC) analysts, DataBee delivers a dynamic and reliable single source of truth by connecting and enriching data insights to measure CCM outcomes. Comcast has experienced first-hand the security data fabric journey, and DataBee 1.5 brings to market the innovations from our internal tool – including feeds, dashboards, and visualizations – to your organization so you can scale your continuous controls services program.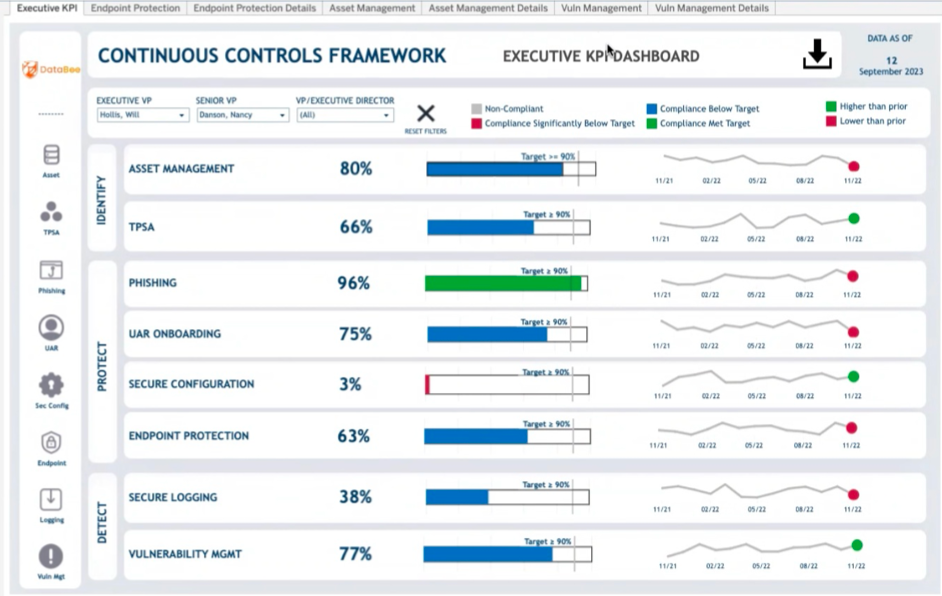 In this example, Will Hollis, an Executive VP of ACME Studios, views the security posture of his organization using DataBee's Executive KPI Dashboard.  
Verifiable data trust 
The robust platform features 14 pre-built CCM dashboards, aligned to the NIST Cybersecurity Framework, and the ability to self-defined KPI values – or use DataBee recommended values. Risk scores are populated using underlying data sources collected and enriched by DataBee. Users can see in detail where and how the data is used when hovering over the score. The completeness, accuracy, and timeline in the dashboards builds trust in CCM reporting and leads to accountability amongst business leaders. Afterall, data trust gives you wider adoption of your cyber-risk program throughout the business.

DataBee gives you insights into how the scores are provided 
Operational efficiency  
A benefit of having data at the center of your CCM program is that it streamlines engagement models with control owners. Previously GRC teams had the tedious task of scanning a variety of data sources – nearly all of which they did not have control over – and having fragmented conversations with different stakeholders. With DataBee, instead of hearing from your GRC teams infrequently and during urgent events, there is a continuous feedback loop built on the quality of data and actionable insights. Another benefit is the ability to measure the effectiveness of cyber-risk investments and programs. 
Proactive risk management 
The ever-evolving threat landscape and regulatory constraints are a nightmare to deal with for any GRC team at any scale. DataBee's CCM capabilities deliver deeper insights about risks and inefficiencies, providing recommendations for resolution and hierarchy information to proactively reach out to control and asset owners. In the screenshot below, users can drill down to the granular details from their vulnerability management dashboards and find solution recommendations to resolve issues quickly. Teams throughout the business can focus on closing gaps instead of finding them, enabling the business to remain in compliance with internal and external requirements.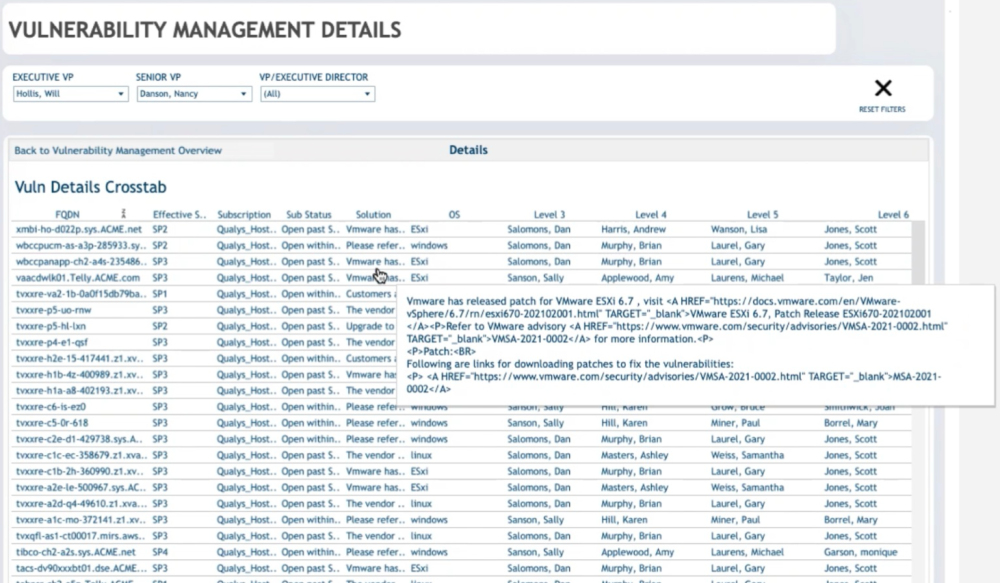 Drill into the vulnerability management details to find out how to resolve issues. 
Get started with DataBee 
Continuous controls monitoring is a game changer for security transformation and outcomes. DataBee, from Comcast Technology Solutions, is thrilled to deliver data-centric CCM capabilities that scales for businesses of all sizes. Watch our DataBee 1.5 announcement to hear from Nicole Bucala, Yasmine Abdillahi, and Erin Hamm about the product journey. Want to get started right away? Email us at CTS-Cyber@comcast.com and check out our AWS Marketplace Listing.