Comprehensive. Modular. Secure. Powered by Sky.
CTS and Sky are proud to offer a fully managed Channel Origination service, designed for the unique challenges and opportunities of growing markets such as those in the EMEA region.
As part of one of the world's largest media conglomerates with brands that include NBC, Universal, Sky, and FreeWheel, we understand what it takes to deliver the content that customers want, wherever they want it, and on the devices they prefer. The goal for EMEA Managed Channel Origination is simple: to develop a superior, cost-effective approach to content origination that allows businesses like yours to focus on what matters most — creating personalised experiences that evolve with your growing viewership. Managed Channel Origination is designed to give content providers more flexibility for the future — freeing up precious time and resources that can be used to develop exciting new experiences for your customers.
Cloud-based and fully managed, from acquisition to delivery.
Acquire, prepare, create, package, and deliver linear or online channels and video content across devices and experiences.  
Channels are prepared with CTS' rendering operations, cloud-based content supply chain implementation, media asset management, and traffic and metadata services.  
Create channels with advanced capabilities such as channel automation playout, master control, or create dynamic new AI/ML capabilities using VideoAI™.  
Deliver via satellite uplink, fiber, secure internet, or CDNs to any screen.  
Redundant and diverse IP routing infrastructure provides a certified, secure global playout solution to accelerate delivery. Key benefits include: Cloud-based and fully managed, from acquisition to delivery.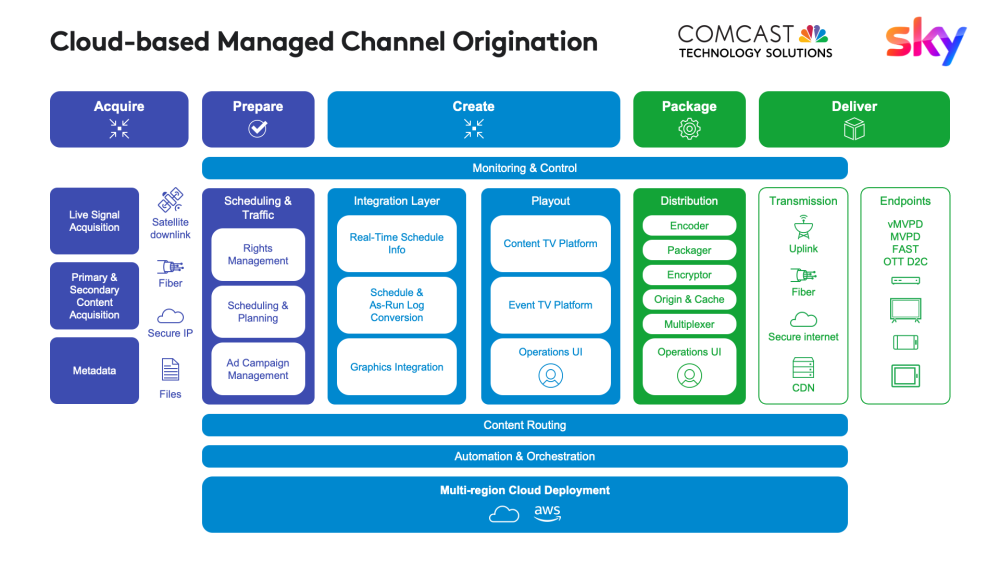 Learn more about Managed Channel Origination services.