Bring a next-gen voice service to market with Comcast's quality and scale: no building required.
A true state-of-the art voice solution adds tremendous value to business and residential technology customers alike; however the costs associated with building and maintaining a modern service can make for an expensive addition to your portfolio. The Cloud Communications Platform provides a cost-effective alternative that allows you to retain a Triple Play offering without over-investing in infrastructure.
With Comcast's advanced network and economy of scale, you can tailor your own custom multi-tenant voice product – one that complements your brand and delights customers with deep functionality and solid dependability. All fully managed by Comcast Technology Solutions.
One-Sheet
Modern voice services can be prohibitively expensive to deploy at scale but are an attractive way to cultivate longer, more profitable relationships with both business and residential consumers alike. Comcast Technology Solutions offers a comprehensive set of world-class voice-over-IP (VoIP) solutions that transform...
CLOUD COMMUNICATIONS PLATFORM COMPONENTS
The Cloud Communications Platform is managed as a service, with tools that provide a complete reporting picture for performance across the ecosystem: Inventory management, Provisioning, Service Assurance, Invoicing, API Uptime, and Call Detail Records (CDRs).
IMS Core
Over 12 million lines
Advanced voice feature sets and functionality
Geo-redundant architecture, with coast-to-coast core locations
Call Routing
Turnkey transport for local, toll, Long Distance and International calls
Branded operator and Directory Assistance
E-911 and 8YY Service
Demarcation
SIP/SBC interconnection to other voice service providers
Interoperability across platform applications
IP Network and Last Mile
Partner retention of Customer Experience, Billing, Care, and truck rolls
Product roadmap and definition based upon market needs
CLOUD COMMUNICATIONS PLATFORM SYSTEMS AND SERVICES
Utilizing the same core elements, backend systems across the platform combine to provide a single end user experience for voice, broadband, and video services.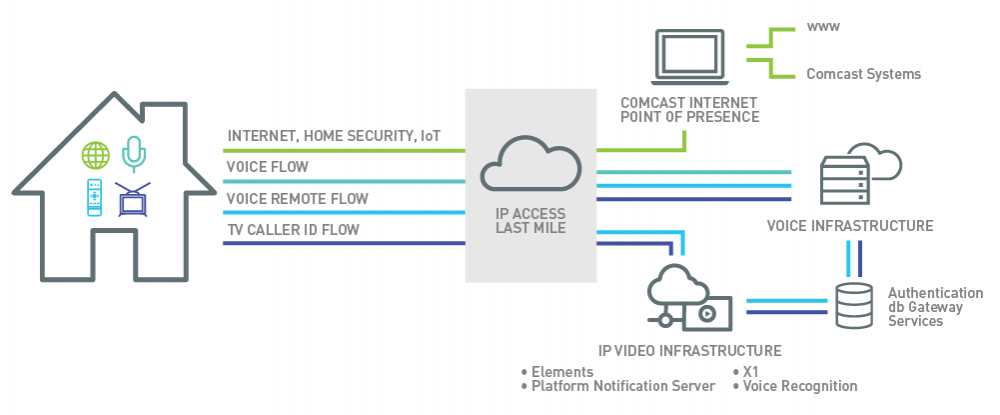 Comcast Technology Solutions
Learn more about Cloud Communications Platform