Blog
August 25, 2023
Comcast (DataBee™) at Black Hat? Yes!
The DataBee™ team can't help but have a little fun with the fact that Comcast is not exactly one of the first companies you think of when you think "cybersecurity". Comcast has attended Black Hat in the past, but this is the first time we are debuting a cybersecurity solution for large enterprises – the DataBee security data fabric platform, which is poised to transform the way enterprises currently collect, correlate and enrich security and compliance for the better.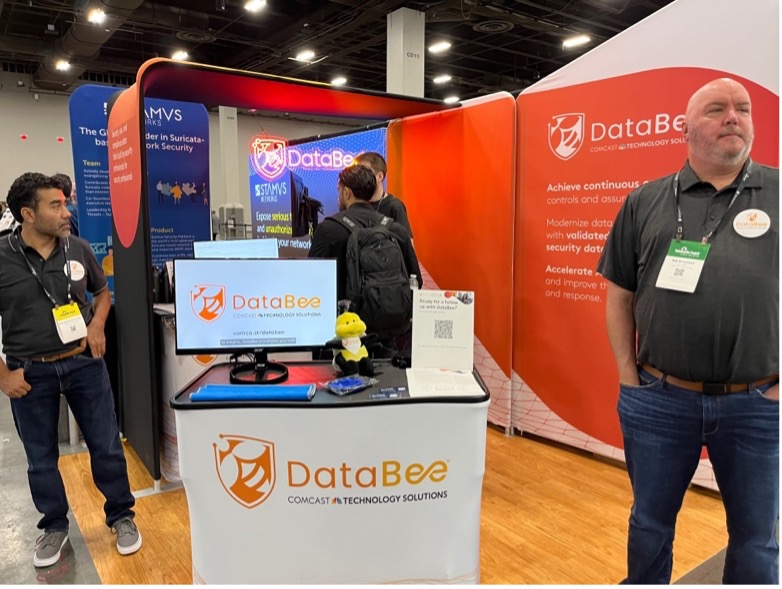 This was the 26th year of Black Hat USA but despite how many security vendors there are serving the market – a reported 3,500 in the US alone, 300 of whom were on the show floor – "security data chaos" (a term we love to use because it's such an accurate description) remains a very real and difficult problem. Our discussions with booth visitors validated that it's still very labor and cost-intensive to bring together the security data teams need to understand the threats that might be imminent or already wreaking havoc. When we would tell the DataBee story, there was a lot of head nodding. 
From booth discussions to participation in a major industry announcement and the Dark Reading News Desk, the DataBee team took advantage of being at Black Hat to raise awareness of the security data problem and how we're uniquely addressing it. A few highlights include: 
The Open Cybersecurity Schema Framework (OCSF) announcement 
On Tuesday, August 8, DataBee was included in the announcement, OCSF Celebrates First Anniversary with the Launch of a New Open Data Schema: 
The Open Cybersecurity Schema Framework (OCSF), an open-source project established to remove security data silos and standardize event formats across vendors and applications, announced today the general availability of its vendor-agnostic security schema. OCSF delivers an open and extensible framework that organizations can integrate into any environment, application or solution to complement existing security standards and processes. Security solutions that utilize the OCSF schema produce data in the same consistent format, so security teams can save time and effort on normalizing the data and get to analyzing it sooner, accelerating time-to-detection.
OCSF is a schema that DataBee has standardized on to make data inherently more usable to a security analyst. It also enables out-of-the-box relationships and correlations within a customer's preferred visualization tool, such as Power BI or Tableau. (For more on this, check out the DataBee product sheet.) 
Matt Tharp, who leads field architecture for DataBee, has contributed to the OCSF framework and was quoted in the announcement alongside leaders from Splunk, AWS and IBM, among others. Coverage of the announcement included this piece in Forbes.
Dark Reading News Desk 
At the Dark Reading News Desk , Matt was joined by Noopur Davis, EVP and Chief Information Security & Product Privacy Officer at Comcast, for a great discussion with contributing editor Terry Sweeney on the topic of the big data challenge in security. Noopur and her cybersecurity team developed the security data fabric platform that DataBee is based on, and Matt—as an architect of DataBee—is part of the team bringing the commercial solution to market.
They discussed topics including: the challenge that big data creates for security teams; how Comcast has gone about addressing this issue; what a security data fabric is and how this approach differs from other solutions such as security information and event management (SIEM) systems; where and how a security data fabric and a data lake intersect; and what the customer response to DataBee has been so far.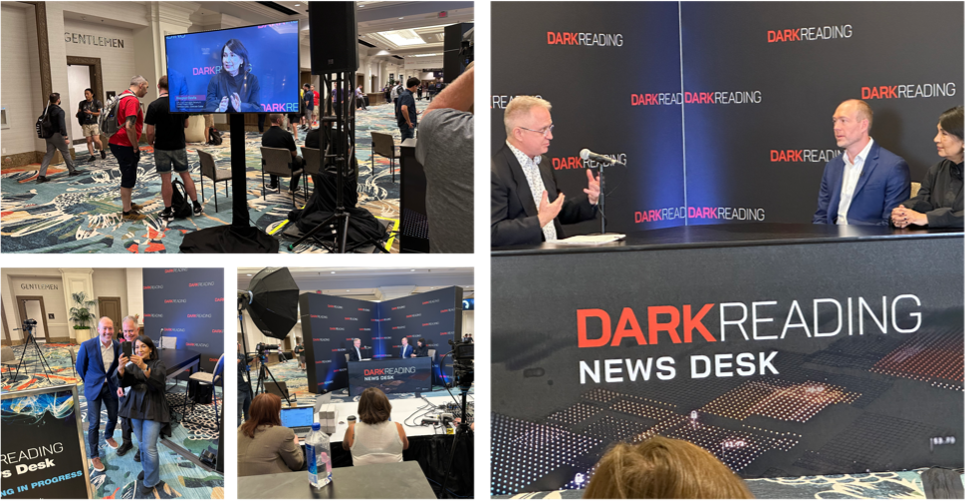 The video of this discussion is a great way to understand DataBee's origin story and the very real benefits that Comcast has gotten from building and using a security data fabric platform. Following in the internal solution's footsteps, DataBee—unlike other security products—is designed to handle environments on the scale of large enterprises like Comcast.
DataBee in a minute and 39 seconds 
The concept of a security data fabric platform is new and it's a little on the complex side. So leading up to the Black Hat show, the DataBee team created an animated "explainer" video that brings to life what DataBee is, how it works and the key benefits it brings to different roles:  
GRC teams can validate security controls and address non-compliance 
Data teams can accelerate AI initiatives and unlock business insights 
Security teams can quickly discover and stop threats 
If you were at Black Hat and need a refresher, or if you're learning about DataBee for the first time, this short video provides a great high-level introduction.
While DataBee has other use cases besides security, this is a market and critical capability in need of a better way to manage all of the data that's relevant to understanding an organization's real security, risk and compliance posture.
Will we be back at Black Hat in 2024? You betcha.
In the meantime, learn more or schedule a customized demo of DataBee today.
Additional resources: