Exceed consumer demand and quality expectations with a content distribution network built specifically to transport video
Content owners face significant challenges as consumers' expectations for the quality, reliability and speed of online media continue to grow. To meet these demands for our own customers, Comcast built a content delivery network (CDN) that leverages the massive scale and lightning speed of the Comcast network. Using the Comcast CDN (available from Comcast Technology Solutions) and its hardened infrastructure, your media will be delivered at broadcast quality without sacrificing download speed.
One-Sheet
Streaming video, gaming, and consumption of other online media continues to grow and disrupt traditional media ecosystems. As demand increases, consumers' expectations of the quality, reliability, and speed of these online experiences are also rising. Today, the consumer experience with online content should...
ROBUST NETWORK BUILT FOR MEDIA DISTRIBUTION
Comcast CDN offers full support for all forms of HTTP-based media and enables a seamless experience across any device. It is comprised of:
147+ physical cache locations
18 network interconnect locations
Direct interconnects to over 250 global networks
Delivers peak traffic of more than 3.5 Tbps each day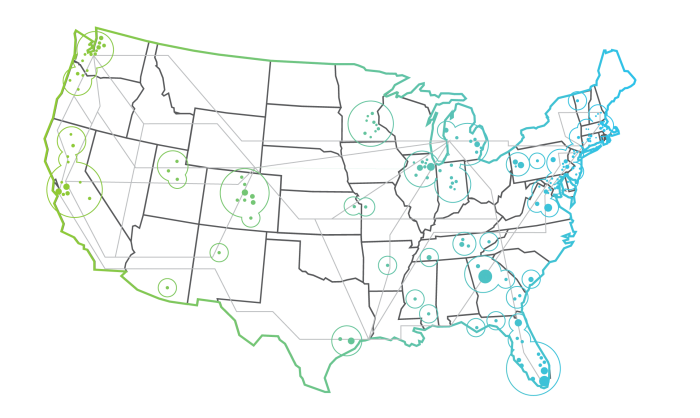 Origin Key Benefits
Comcast Origin storage and just-in-time processing simplifies and optimizes your digital video workflow. Pair with the Comcast CDN for best-in-class digital video delivery, or leverage multiple CDN providers.
Enable Your Multi-CDN Strategy
Content providers can leverage Comcast's multi-CDN fabric to deliver broadcast-quality content over the Comcast CDN and other CDNs using intelligent switching technology. Benefits of a multi-CDN strategy include:
Ensuring broadcast quality with quicker playback start times, less re-buffering, higher average bitrate delivery, and outage avoidance.
Optimizing costs through the application of performance-based and static business rules, while reducing storage and egress costs through a single CDN-agnostic origin.
Current Customers
Please click the link below to access the CDN portal.
Client Testimonials

"We are working closely with Comcast to deliver an amazing video experience to users on Yahoo. This partnership, as part of our multi-CDN strategy, is something we are excited about and look forward to continued collaboration."

Contact us about our Content Delivery Network.