The State of Digital Transformation in 2019
In 2017, we started off the year talking about the convergence of digital and broadcast workflows. It was inevitable: by bringing the consistent quality and process maturity of broadcast with the agility, reach, and monetization capabilities of digital, companies are creating, as we said at the time, a new ecosystem of win-win scenarios. In truth, it's really a win-win-win, as consumer choice – and power – have only increased the benefits at the individual viewer level. 
2018 saw the acceleration of change in pretty much every measurable way. The capability of viewing devices, from folding mobile screens to gargantuan "wallpaper" in-home displays, continues to drive consumer quality expectations. At the same time, advances in video management and delivery continue to find creative ways to exceed those expectations by wrapping broadcast-quality reliability into first-rate experiences and personalized, hybrid business models that remain relevant to consumers daily.
Our initial partnership with research and strategy company MTM resulted in our first TV Futures Initiative – an international effort to identify the trends that are shaping the relationships between content, consumer, creators, and providers. For 2019, we've again partnered with MTM, along with FreeWheel (also a Comcast company) to produce the new research paper, 2019 TV Futures Initiative: Digital Transformation – A Framework for Success.
A FRAMEWORK FOR MEASURING AND TRACKING INDUSTRY EVOLUTION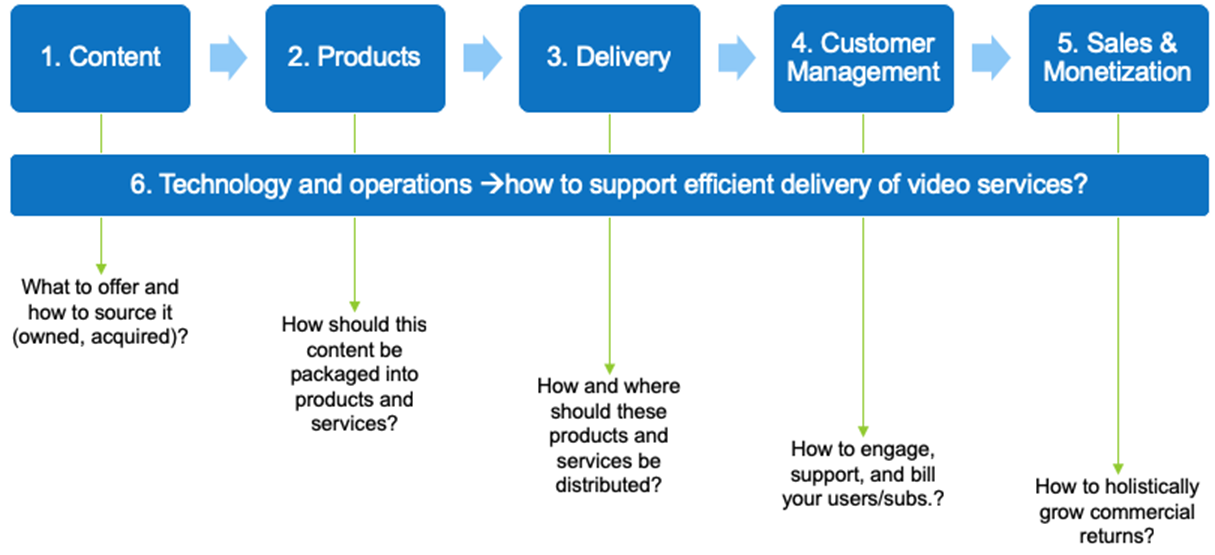 One of our primary goals in creating this paper was to help media companies with a structured way to strategize and self-analyze in a rapidly changing market. The digital transformation framework we identify consists of six key areas to consider and prioritize:
Content: It's not exactly a secret that job one of every media destination is to offer content that's relevant and valuable to consumers. The proliferation of standalone and subscriber services creating original top-quality content has blown the competitive landscape wide open, but it's more than just the popularity of a program – it's also about the quality and variety of presentation. Broadcasters and providers are adding value through new streaming services and content partnerships that build audience engagement. UHD programming continues its rise, and while emerging technologies like 360 video and VR/AR might not earn a place on your roadmap today, they are increasingly worth exploring.
 
Products: How are you bringing your content to market? It's important to take a hard look at how content is bundled and packaged, and how those decisions play out across platforms, devices, and regions. "Know thy audience" must be a mantra for providers to be heard above the noise of a crowded market, so any learnings about consumer behavior and response needs to be turned into actionable and agile planning.
 
Delivery: The consumer-facing demands of right now, any-device excellence put tremendous pressure to perform on infrastructure and processes, requiring new ways to eliminate outdated and disparate workflows in favor of a more unified delivery model that can keep up. Content, especially high-demand content, needs to be delivered seamlessly to multiple linear and non-linear destinations seamlessly, with a close eye on security. Protection of content is a serious concern for live programming (like premiere sporting events) as well as on-demand services, and in today's environment it's incumbent on each provider to ensure that the value of their assets aren't compromised.
 
Customer Management: The importance of cultivating a healthy transactional relationship with consumers cannot be overstated. Direct-to-consumer business models provide unprecedented control, but like the saying goes, "with great power comes great responsibility." Consumers expect easy, intuitive support as part of their relationship, and companies are building audience relationships that are longer and stronger by meeting folks on their terms – with tailored payment solutions and incentives for customers who bring more people to the brand. Technically, even an ad-supported service is transactional in nature, because consumers are being asked to watch messaging that paid for some eye-share on a program or stream. Informed focus on the customer experience is the only way to find and follow the north star for each brand.
 
Sales and Monetization: The word that rules our world here is Hybridity. The market continues to shift and grow. Monetization takes on an even deeper sense of urgency when it's costly to produce. Incorporating an advertising component into a subscriber service, offering specific content as a standalone purchase, tailoring offers based on individual consumer habits – they're all dynamic ways to maximize the revenue potential of content so long as the underlying technology and management processes can support it.
 
Technology and Operations: The common thread that runs across every point in the transformation framework is how companies are leveraging new technologies and techniques to close the gap between content and consumer. New approaches may supplant or augment existing components of your workflow, technology changes need to be prioritized, and analyzing the impact of how these advancements will impact the skillsets needed by your team are all considerations (side note: we published a white paper that introduced a different framework for this point alone, called Media Technology and Lifecycle Management).
GET THE RESEARCH
The 2019 TV Futures Initiative research paper illustrates the above points in greater detail, and provides a handful of case studies from companies that are applying these tenets to transform their operations and succeed with consumers globally. You are invited to download the paper for yourself as a tool to:
Gain insights into key digital trends from each of the above points
Better understand the challenges and opportunities ahead
Learn from firsthand experience of other companies
Apply this format to your own internal assessments
 
READY TO LEARN MORE? CHECK OUT THE LINKED CONTENT BELOW.
THE STATE OF DIGITAL TRANSFORMATION IN 2019
Comcast Technology Solutions
https://www.comcasttechnologysolutions.com/sites/default/files/2016-09/CTS_Final.jpg
THE STATE OF DIGITAL TRANSFORMATION IN 2019 In 2017, we started off the year talking about the convergence of digital and broadcast workflows. It was inevitable: by bringing the consistent quality and process maturity of broadcast with the agility, reach, and monetization capabilities of digital, companies are creating, as we said at the time, a new ecosystem of win-win scenarios. In truth, it's really a win-win-win, as consumer choice – and power – have only increased the benefits at the individual viewer level. 2018 saw the acceleration of change in pretty much every measurable way. The capability of viewing devices, from folding mobile screens to gargantuan "wallpaper" in-home displays, continues to drive consumer quality expectations. At the same time, advances in video management and delivery continue to find creative ways to exceed those expectations by wrapping broadcast-quality reliability into first-rate experiences and personalized, hybrid business models that remain relevant to consumers daily. Our initial partnership with research and strategy company MTM resulted in our first TV Futures Initiative – an international effort to identify the trends that are shaping the relationships between content, consumer, creators, and providers. For 2019, we've again partnered with MTM, along with FreeWheel (also a Comcast company) to produce the new research paper, 2019 TV Futures Initiative: Digital Transformation – A Framework for Success. A FRAMEWORK FOR MEASURING AND TRACKING INDUSTRY EVOLUTION One of our primary goals in creating this paper was to help media companies with a structured way to strategize and self-analyze in a rapidly changing market. The digital transformation framework we identify consists of six key areas to consider and prioritize: Content: It's not exactly a secret that job one of every media destination is to offer content that's relevant and valuable to consumers. The proliferation of standalone and subscriber services creating original top-quality content has blown the competitive landscape wide open, but it's more than just the popularity of a program – it's also about the quality and variety of presentation. Broadcasters and providers are adding value through new streaming services and content partnerships that build audience engagement. UHD programming continues its rise, and while emerging technologies like 360 video and VR/AR might not earn a place on your roadmap today, they are increasingly worth exploring. Products: How are you bringing your content to market? It's important to take a hard look at how content is bundled and packaged, and how those decisions play out across platforms, devices, and regions. "Know thy audience" must be a mantra for providers to be heard above the noise of a crowded market, so any learnings about consumer behavior and response needs to be turned into actionable and agile planning. Delivery: The consumer-facing demands of right now, any-device excellence put tremendous pressure to perform on infrastructure and processes, requiring new ways to eliminate outdated and disparate workflows in favor of a more unified delivery model that can keep up. Content, especially high-demand content, needs to be delivered seamlessly to multiple linear and non-linear destinations seamlessly, with a close eye on security. Protection of content is a serious concern for live programming (like premiere sporting events) as well as on-demand services, and in today's environment it's incumbent on each provider to ensure that the value of their assets aren't compromised. Customer Management: The importance of cultivating a healthy transactional relationship with consumers cannot be overstated. Direct-to-consumer business models provide unprecedented control, but like the saying goes, "with great power comes great responsibility." Consumers expect easy, intuitive support as part of their relationship, and companies are building audience relationships that are longer and stronger by meeting folks on their terms – with tailored payment solutions and incentives for customers who bring more people to the brand. Technically, even an ad-supported service is transactional in nature, because consumers are being asked to watch messaging that paid for some eye-share on a program or stream. Informed focus on the customer experience is the only way to find and follow the north star for each brand. Sales and Monetization: The word that rules our world here is Hybridity. The market continues to shift and grow. Monetization takes on an even deeper sense of urgency when it's costly to produce. Incorporating an advertising component into a subscriber service, offering specific content as a standalone purchase, tailoring offers based on individual consumer habits – they're all dynamic ways to maximize the revenue potential of content so long as the underlying technology and management processes can support it. Technology and Operations: The common thread that runs across every point in the transformation framework is how companies are leveraging new technologies and techniques to close the gap between content and consumer. New approaches may supplant or augment existing components of your workflow, technology changes need to be prioritized, and analyzing the impact of how these advancements will impact the skillsets needed by your team are all considerations (side note: we published a white paper that introduced a different framework for this point alone, called Media Technology and Lifecycle Management). GET THE RESEARCH The 2019 TV Futures Initiative research paper illustrates the above points in greater detail, and provides a handful of case studies from companies that are applying these tenets to transform their operations and succeed with consumers globally. You are invited to download the paper for yourself as a tool to: Gain insights into key digital trends from each of the above points Better understand the challenges and opportunities ahead Learn from firsthand experience of other companies Apply this format to your own internal assessments
Comcast Technology Solutions